Thank you,
Thank you
THANK YOU!!!!!!!
THANKS SO MUCH, LOREN!!! (click 'Loren' to see her AMAZING blog! 😉 )
I'm so happy that you tagged me!!!
THANK YOU
Rules:
Link back to the person who tagged you (done)
Answer all 11 questions
Tag 11 bloggers who have less than a thousand readers
Ask them 11 questions
Let them know you've tagged them through social media.
I'm tagging:
(wow! LOTS of 'madd's! XD )
Misty (you've already done this, so you DON'T have you do it again 😉 )
Genna (Note to Genna: You can do this on whatever blog you want, I just linked it to this one! 😉 )
Megan (you've done it too, so you don't have to again if you don't want to) 😉
Wow…I'm TRYING to remember more….
XD 😉 😛
Uhhhh…MMM!! EE, UGH! XD "think, Think, THINK!!!"hmmm…ooh! No…Ah! *goes to reader to fined more bloggers* (I'm ACTUALLY doing that right now! XD )
FINALLY!!!!!
Okay! NOW FOR LOREN'S QUESTIONS!!!!!
What is the first long word you can think of?
jiggle??? XD That's not a long word! XD let me try again:
Jumprope! Bubblegum? Tickles? XD Close enough! XD
Dream job?
Writer and/or vet assistant,maybe marine biologist!!!
Last movie you watched?
Ooh! Hmmm…Oh YA! Well, my mom is watching a kind of weird old fashioned movie right now (that I actually like! XD 😉 ) But the last one I watched with my family was one of my favorites, Big Hero 6!!! XD ♥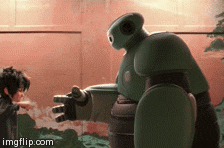 If you could give any advice to your younger self, what would it be?
Ooh! Don't hold the poor cat by the neck! XD
We used to have a cat named Cheese, he was the NICEST CAT IN THE WORLD!!!! XD He never ever scratched you, at least VERY RARELY! I used to (when I was like 3) sing la,la-bye baby, while I swung him back and forth by holding him below his head, the poor guy! Don't blame me! I was little!!!!
Favorite fan art?
Not quite sure what this is, and don't really care! XD Sorry!! I like pictures and all, but I like drawing MY OWN! XD 😉 Sorry!
Guilty blogging habit?
Ugh! Umm…..not saying UM so much!! XD 😉 And not using QUITE so many ' 😀 ' smiley faces! XD 😉 XD XD XD 😛 🐻 ➡ !!! XD XD 😉 🙂 and, and…lots of other things too! Not posting twice a day, and then not posting for a week…too many 'guilty blogging habits' to count! XD
If you could have a major role in any movie, what would it be?
Umm…I'm not POSITIVE what this means, but … I would like to be …
Hazel, in Dolphin Tale!
Which do you prefer, snail mail (letters) or email?
Ahh! That's HARD! I think Snail mail…if only it wasn't so, so… snaily! XD It takes forever! But I like seeing my name and address on letters!!! Email is a lot of fun too though! But I'll say Letters, cause I don't have my own email!! 😉 😦 XD
Are you in a scouting group?
I'm sorry, but I'm having to say this a lot, I don't know what this means!! If is means like boy scouts or girl scouts, then NO, I'm NOT!
Have you ever made an ATC?
I Don't THINK So, but I've thought about it. If I DID ever make one, then I didn't know that that was what it was called at the time! 😉 😛
Do you have any social media accounts?
Ahhhh!!! I MYSELF: NO, but my mom does!
Ugh! I forgot questions! Sorry readers who saw this before I put questions! XD
Here:
What's your favorite movie?
Do you have a favorite Smiley face? (Like these: XD 😛 😉 🙂 🐻 etc)
what is/are some of your favorite books! From 1 to 10! XD yes, sorry you HAVE to limit to ten! XD
Pencils or pens?
What do you want to do when your older, or for that fact, now?
Last book you read, or one you're reading right now, only the first five please! 😉
Favorite girl name?
Initials? (Don't have to answer this one, if you don't want to, then say eye color instead! 😉 )
Do you like to write? If so, have you ever finished a story?
What's your favorite TYPE of book? Like fantasy, fiction, nonfiction, fantasy fiction..??
I hope you liked this post!
Have a good day!
Bye!!!
~K.A~
P.S. Suzy is having a GIVEAWAY!!! HERE is the giveaway post!
Please comment or like this post if you were tagged for the award, so that I know I don't have to contact you and tell you!! XD 😉 Thanks!
Ooh! Here is my coloring page, Megan! Hope ya like it! BTW,I won the BUTTON GIVEAWAY That Megan DID!!! Sooo..look below to see my signoff!!! So you can scroll down to see THAT!!! 😉 and   … I forgot what-oh ya! Look at my last post if you want to see an UPDATED pic of Cap'n! If you don't know who cap'n is, then…look at my last post! XD Gotta go!